Workforce Device Holders
Our workforce products offer a range of handheld and tablet mobile holders that are designed for reliable, secure mounting in any environment. From warehouses to restaurants and transport, these holders can be powered via a cig-plug charger or hard-wired into a vehicle. Equipped with an AMPS hole mounting plate and tilt swivel, the holders can be easily attached to various mounting solutions, including pedestal mounts, suction mounts, bar mounts, forklift mounts, or even custom-made solutions.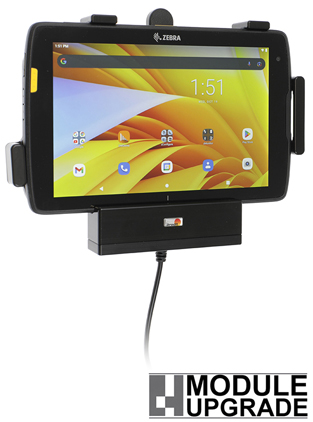 NEW UPGRADABLE MODULE CRADLES
The Cradle can be upgraded using the add-on Modules.
The Sping-Lock can easily be changed to a Key Lock Module if more security is required.
STEEL MOUNTING PLATE
A steel mounting plate for a durable and reliable installation. Great for forklifts and where the environment is rough and tough.
AMPS & VISA PATTERN MOUNT HOLES
AMPS (38x30mm) and Vesa 75/100mm mounting holes for quick and easy attachment to any flat surface or mounting brackets such as our Heavy Duty Pedestal or Forklift Mounts.
These holders are also easy to self-install, as they come with instructions and mounting screws. With their strong and functional design, our mobile holders are perfect for merchant-operated, data capture, and consumer-facing self-service payment systems.
Our mobile holders are the perfect way to make sure your workforce is up and running smoothly and efficiently. With a secure and reliable fit, your devices can be used with confidence, knowing that they will stay in place and be fully charged at all times.