Magnetic Suction Mount Kit
The Oliv Suction Mount connects your device seamlessly with magnetic force provided by our Smart Magnet Technology. Using Smart Magnets to firmly attach with the shim on the device the Oliv Suction Mount provides a safe and easy to use mobile mounting solution. From the vehicle to the office and at home the Oliv Suction Mount will mount to many flat smooth surfaces. With the modular design of the Link you can take Oliv anywhere anytime. We have installed Smart Magnets to the front and back of the Link so that you can use just the link as a mounting platform for your device anywhere you go.
Built with Smart Magnet Technology, Oliv products hold the device in position and allow for positive movement from portrait to landscape mode. Compatible with GPS, iPod, iPhone, Smartphones and small Tablets.
---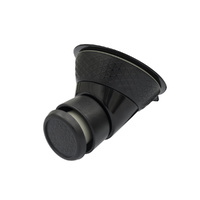 Complete with Two Shims
Safe for all mobile devices - Does not affect the compass - A safer way to use GPS phone navigation - Tilt 42° in any direction - (2) adhesive shims included