Magnetic AMPS Mount Kit
The Oliv. AMPS Mount connects to most flat surfaces and/or mounting platforms featuring the universal AMPS hole pattern. Magnetic force will connect the AMPS Mount and Oliv. Link to a device with a firm, secure hold. Attach the AMPS Mount to a fixed mounting location and take the Oliv. Link (included) anywhere you go a in the car, home, gym or office. The AMPS pattern is a series of four holes aligned in a rectangular pattern. Compatible with most protective cases.
---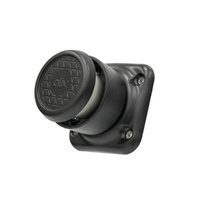 Car Phone Mounts Suits iPhones XR/XS, Galaxy S10 Series
SKU: 84073
Safe for all mobile devices - Does not affect the compass - A safer way to use GPS phone navigation - Tilt 42 degrees in any direction - (2) adhesive shims include - NOTE: COMPATIBLE WITH ClicOn DASHMOUNTS.