A501

Please note: Industry does not have an official standard mounting hole profile. ClicOn uses the AMPS pattern throughout our range of mounts and holders. The AMPS pattern is a series of four holes aligned in a rectangular profile. Some manufacturers use two of the four holes while maintaining the AMPS pattern spacing dimensions. The four holes are spaced at 30.mm x 38mm (1.181" x 1.496") and the diagonal measurement at 48.5mm (1.912 inches).
---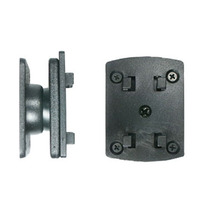 SKU: 215114
Fits: Mio Series/HEMA Navigator
with predrilled AMPS-standard holes.